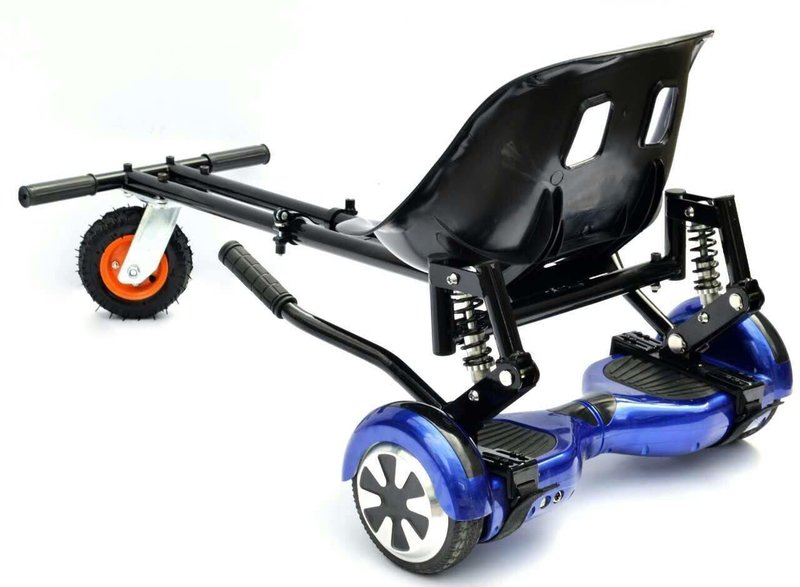 Brand New Exclusive Hoverkart In stock now.
HoverCart is a hoverboard accessory that transforms your hoverboard into a super fun electric gokart that can speed up, brake, turn on a penny, and do wheelies, all with simple, hand controls.

Max Speed: ~12mph or 20kph (hoverboard dependent)

Battery Life: ~1 hour of continuous usage (hoverboard dependent)

Max. Weight: ~220 lbs or 100kg (hoverboard dependent)

Min. Height: 40" or 100cm

Max. Height: 6'6" or 200cm
As you can see from the specs above, the performance depends heavily on the hoverboard you're using. The specs above represent what we've found to be true on average across all the hoverboard brands and models we've tested so far.

Compatibility
The ultimate goal is for HoverCart to be compatible with every hoverboard on the market. The patent-pending attachment system makes this possible by allowing to simply mold different feet for each type of hoverboard.
However, there are many variations of hoverboard including a lot of knockoffs that all look the same but really aren't. So far, Hoverkart has developed feet for the typical 6.5" and 10" boards pictured below and tested them with a variety of different brands and models with 100% success.